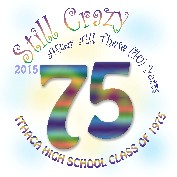 Memories
40th Plans
Classmates
Web Site Info
One Very Cool High School Class
Ithaca High School Centennial Class of 1975
Still Crazy After All These Years
---
01/19/2015
40th reunion July 2nd to the 5th 2015 In our beloved home town of Ithaca.
Here is the
schedule of planned events.
Please fill out the
RSVP Form
, to help us plan. There are even some
special deals on places to stay.
We have a
facebook group
and that is where most of the communication will be happening. So if you are not a member please join. It is invite only, so send a message to a classmate on facebook and we will add you. Currently there are 197 members, which means over two thirds of you are missing :-(. If you don't do facebook, watch this site and I will keep it up to date. Please make sure your
contact info,
especially your email address, is up to date. I am looking for photos from past reunions. If you have any you would like to share please send them to builder at ihs75 dot com.
---
Click here for past updates.